---
Latest News: New Officer Graduates
On Wednesday, August 6th, the Town of Walpole gained its newest police officer as Officer Gaelen Beberman-Moore graduated with the 33rd MBTA Municipal Police Academy.
Starting Thursday, August 7th, Officer Beberman-Moore will begin a 12 week field training program under the guidance of our veteran training officers. Please join us in congratulating Officer Beberman-Moore (pictured with his family, Police Chief Richard Stillman, and Deputy Chief John Carmichael) on this accomplishment and welcoming him to the Walpole Police Department.
Latest News: MSP K-9 Finds Drugs in Hidden Compartment

K-9 Rocky Finds Hidden Compartment with Cocaine in Walpole Yesterday. At approximately 4:30 p.m., Troopers Jay Vital and David Bouchard (81st RTT) conducted a traffic stop on Route 1 in Walpole. During the stop, Tpr. Vital observed several indicators of possible illegal narcotics activity. Tpr. Vital checked the operator and found that the operator had an active arrest warrant for Trafficking Cocaine; the operator was arrested.
Tpr. Vital then deployed K-9 Rocky for a narcotics sniff of the vehicle and Rocky alerted to the odor of narcotics at the vehicle's radio. Tpr. Vital checked this area further and discovered an aftermarket compartment built in behind the radio. Tpr. Vital opened the compartment and located approximately 76 grams of cocaine. Pictured here is K-9 Rocky and a photo of the compartment with the cocaine inside.
Latest News: Walpole PD Seeking Full-Time Dispatcher
The Town of Walpole is currently seeking qualified applicants for a full time (40 hrs/wk) dispatching position. The schedule for this position consists of a 4 days on with 2 days off rotation, hours TBD.
Applicants must be HS graduates, have excellent public relations skills, and a positive attitude. Computer experience is desirable. Preference will be given to those applicants that are 911 and EMD certified, plus have public safety dispatcher experience or have completed the 40 hour telecommunicator training. Starting salary is $19.99/hr. Send employment applications, available at www.walpole-ma.gov, to:

Town of Walpole
Human Resources
135 School St.
Walpole, MA 02081

APPLICATION DEADLINE PASSED. Please keep an eye on WalpolePD.com for future openings, and thank you to all those inquired about the position.
Latest News: Walpole Police Dispatchers Honored

On April 23, 2014, the Massachusetts State 911 Department, along with the Secretary of Public Safety and Andrea Cabral, and other distinguished guests recognized several Massachusetts 9-1-1 emergency telecommunicators for their heroic and extraordinary efforts throughout 2013. In addition, a special recognition was given to Boston, Cambridge, and Watertown dispatchers for their vital role during the marathon bombings and its aftermath. All of the telecommunicators were honored for demonstrating professionalism, expertise, calm, and critical thinking skills necessary to complete the difficult tasks they face daily.
Jeffrey Abate (front row-third from the left): Walpole Police Department Dispatcher Abate was honored for his part in saving the life of 2-year-old girl. Her grandmother called to report that she was having a seizure and not breathing. The grandmother was extremely upset but Dispatcher Abate was able to put her at ease and focus her energy on getting the little girl breathing before rescuers arrived. Due to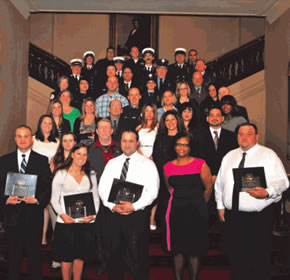 inclement weather, rescuers were delayed and Dispatcher Abate was the only connection the woman had for some time. Dispatcher Abate's ability to calm the frantic woman contributed to saving the girl's life.
Carly Moriarty (front row-second from the left): Walpole Police Department Dispatcher Moriarty was honored for her part in saving the life of an infant. The infant's aunt called to report that he was having a seizure and not breathing. She was frantic and said that the baby was turning blue. The woman was understandably overwrought but Ms. Moriarty calmly talked her though CPR. The procedure began to work and the baby began to regain color before rescuers arrived. An infant's life was on the line and Ms. Moriarty relied on her training to help keep the situation manageable.
The professionalism and composure exhibited by Jeff and Carly during these extremely difficult situations are a reflection upon their outstanding ability to serve our citizens. Both of these Communications Officers are truly an asset to Walpole and the Walpole Police Department.
Latest News: Get Crash Reports
The Walpole Police Department has partnered with GetCrashReports.com to offer citizens a quick and easy way to get copies of their motor vehicle crash reports. Operators involved in an accident in Walpole, where a Walpole Police Officer responded, will receive a card with the incident number of the accident. Using that number, and following the directions on the card, you will be able to obtain your report within 72 hours, via the internet.
Of course, if you are not that computer savvy, you can still pick up copies of your report the previous way, by filling out and submitting the request form found on the Forms Page.
This service is quicker, and easier for operators, while being more efficient and cost effective for the department. In addition, the department will receive all of the benefits of moving to a digital format for filing reports, including getting access to detailed accident data and diagrams.