---
Armed Robbery Caught On Tape - UPDATE: CAPTURED

On June 15, 2013, at approximately 8:40pm a lone gunman entered Dunkin Donuts located at 506 High Plain St. in Walpole.
The suspect jumped the counter before going to the drive thru cash register. He then punched in an order opening the draw. While there he encountered a victim employee and pointed the gun at him and stated he was sorry. The suspect then fled out the rear door in an unknown direction.
The suspect is described as a black male, "caramel color skin", 5'9", thin, 150lbs, wearing an oversized black hooded sweatshirt with no words or markings, black ski mask covering the lower portion of his face, black gloves, blue or gray jeans, black sneakers and carrying a black semi-automatic handgun in his right hand.
UPDATE:
Isaiah Murphy, 23 (shown below), was arrested this week in connection with a string of armed robberies at Dunkin' Donuts shops. Murphy, a former employee, was arraigned on Wednesday, charged with two (2) of the robberies in Canton, and held on $200,000 bail.
As a result of an ongoing investigation, the Walpole Police Detective Division will be seeking a warrant for Murphy in connection with a similar robbery at the High Plain St. Dunkin' Donuts in June.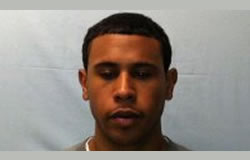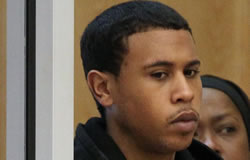 Latest News: Chili's Hosting Event For WPD

Chili's Restaurant (at the Mall) will be hosting an event to support the Walpole Police Department Honor Guard in a few weeks. The Honor Guard is trying to raise money for new uniforms which they desperately need. The Honor Guard has been serving Walpole for over a decade, and volunteers it's services for countless events and ceremonies around town.
With the support of Chili's, there will be a "Give Back Night", where Chili's will donate 10% of the days sales back to the Honor Guard.
If you are interested in supporting the Walpole Police Honor Guard, all you have to do is PRINT OUT THE FLYER, and go enjoy a delicious (large) meal at Chili's.
You can print out the flyer by clicking here...............PRINT FLYER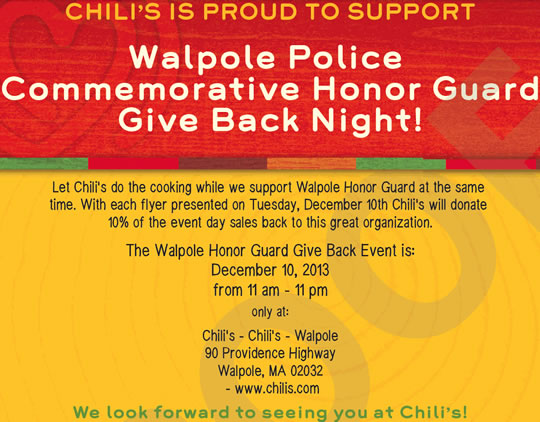 Latest News: CVS Robbery Suspect

On September 15, 2013 at approximately 11:30pm, a white male entered the CVS Pharmacy on Main Street and demanded Opana and "Perc 30's" from the pharmacist. The pharmacist turned over 6 bottles of Opana (300 pills) which the suspect placed into a red and black backpack and fled out of the store, through the parking lot towards East Street.
Anyone with information regarding the identity of this individual should contact the Walpole Police Detectives at (508) 668-1095.
Latest News: Boyden Students & Officers Plant "Garden of Hope"
Mrs. Galvin's 3rd grade class at Boyden Elementary School decided to plant a garden this week at the South Walpole Square. The "Garden of Hope", as it is known, is in remembrance of the attacks of 9/11. The students were kind enough to invite members of the Walpole Police Department along, and the officers were immediately put to work with landscaping duties.
Below, Officer John Thayer digs a hole for some shrubbery while a couple of students decide what should be planted.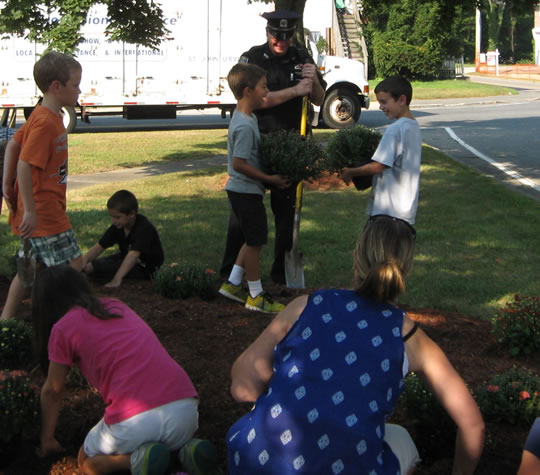 Unfortunately, our officers don't make very good gardeners, however, it was an opportunity for them to work closely with the kids, and it was a great day for the students and officers alike. After all the planting was over, Officer Hart (below) fielded a barrage of questions from the students, who asked "every question imaginable".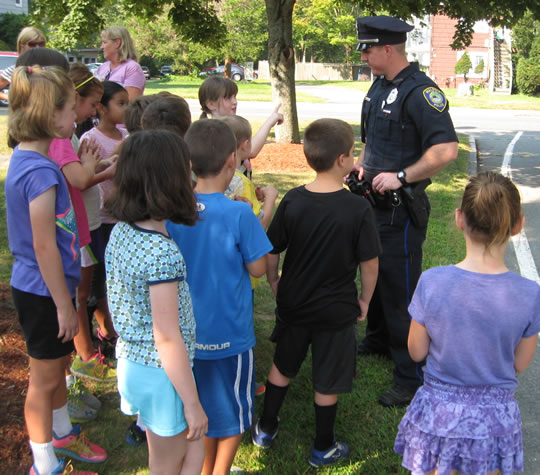 We would like to thank the Boyden Elementary School, Mrs. Galvin and her students for their invitation and for their work on the garden.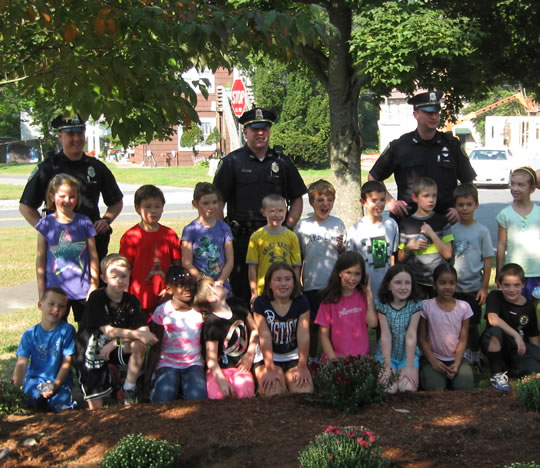 Latest News: Walpole Officers Receive First Responder Award
At last years Night Before the Fourth celebration, Walpole Police Officer Robert Simmons collapsed in the police station. He suffered a heart attack in the middle of the roll-call room, where more than 20 officers were preparing for the event. Several Walpole Police Officers sprung into action and began life saving CPR while Officer Ian Tolland ran down, and back up, three (3) floors to retrieve an AED. That AED was used to shock Officer Simmons three (3) times, and he was eventually saved.
For their work, Officers Manganello, Moses and Tolland were awarded the Massachusetts Police Training Council's First Responder Award today, at a ceremony held at Bentley University. Also honored at the event, were Walpole Police Officers Michael Benner and Luke Parlon, who were instrumental in saving the life of a Walpole resident during a difficult incident last year. Officer Manganello was involved in both of those incidents, while Officer Ian Tolland was involved in a third incident where CPR was used to save someone's life.
Pictured below (from left) Officers Tolland, Benner, Parlon, Moses and Manganello.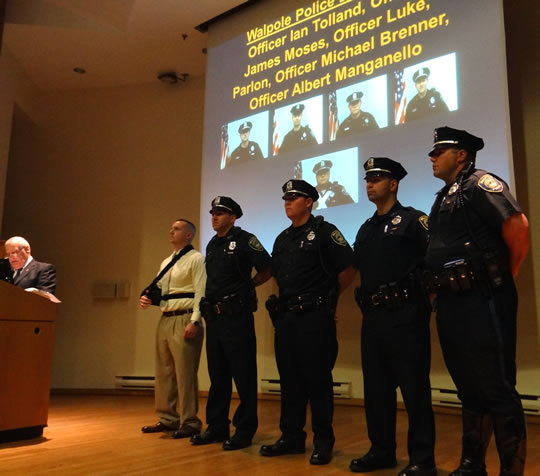 The Statewide Advisory Committee for CPR/First Responders awarded these officers, and several others from around the State, with a plaque to recognize them for "going above and beyond their law enforcement duties in rendering medical assistance to a person in need." In addition, they were awarded a service pin to be proudly displayed on their uniform in recognition of their achievements.
The Walpole Police Department is very proud to have five (5) of it's officers recognized for their extraordinary actions in saving the lives of those involved. Pictured below, the recipients with their plaques and Deputy Chief John Carmichael, who was there to pin the officers.