---
Latest News: Chief Carmichael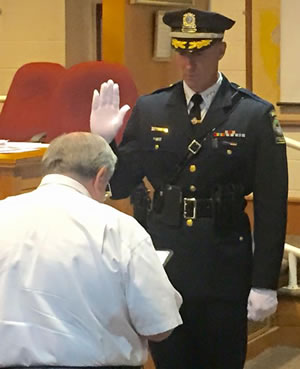 On July 14, 2015, Deputy Chief John Carmichael was sworn in as Walpole's newest Chief of Police. Although not officially taking over the department until July 18th, Chief Carmichael was appointed by the Board of Selectmen in a packed ceremony, attended by family and friends, representatives from many surrounding police departments, and many of Walpole's sworn and civilian staff.
Chief Carmichael began his career in 1989 as a member of the Medfield Police Department before transferring to Walpole in 1996. He has held the positions of Patrol Sergeant and Detective Sergeant, before being named the department's Deputy Chief 2010.
Since arriving in Walpole, Chief Carmichael has been involved in the department's honor guard, motorcycle unit, RAD program, and DARE program. Chief Carmichael is also heavily involved in the Norfolk County Police Anti Crime task force (NORPAC), leading numerous successful operations.
Chief Carmichael has been a leading force in proactive policing and is an authority on the illegal narcotics epidemic. Chief Carmichael is well respected within the law enforcement community, the Town of Walpole, and by all members of this department. We know that he will continue to excel in this new post and uphold the virtues to which we subscribe. Please join us in congratulating Chief John Carmichael as he assumes his new role and leads the department into the future.
Latest News: Change In The Firearms License Reporting
Massachusetts law now requires all firearms license holders and gun owners to reports all personal sales, transfers and surrenders of firearms through the Massachusetts Gun Transaction Portal. See the Firearms Records Bureau flyer below for more information:
>>> FIREARMS RECORDS BUREAU FLYER <<<
Latest News: Public Safety Announcement About Child Car Seats
The Executive Office of Public Safety and Security, through the Highway Safety Division, has recently produced an important PSA about child safety seats. During the winter months, children in car seats are often buckled in wearing heavy gear. However, this could prove dangerous and increase the risk of injury in a crash because the seatbelt is not as close to the child. This PSA is designed to remind parents and caregivers to buckle their children in without heavy coats, and then put them on when they go outside.
Latest News: Walpole Police Citizen Survey

The survey that many of you completed in 2014 was published late in the year and reinforces the community's support of the police. Yes, there are areas we need to continue to work on and improve, but the vast majority (97%) felt the Walpole Police was responsive to their needs. When asked how well the WPD does in providing services to the community, 96% answered either excellent or good. The citizens provided us with an overwhelming response, with over 3,000 surveys returned. View the complete survey by clicking on the link below.

>> Walpole Police Department: Citizen Survey <<
Latest News: Get Crash Reports
The Walpole Police Department has partnered with GetCrashReports.com to offer citizens a quick and easy way to get copies of their motor vehicle crash reports. Operators involved in an accident in Walpole, where a Walpole Police Officer responded, will receive a card with the incident number of the accident. Using that number, and following the directions on the card, you will be able to obtain your report within 72 hours, via the internet.
Of course, if you are not that computer savvy, you can still pick up copies of your report the previous way, by filling out and submitting the request form found on the Forms Page.
This service is quicker, and easier for operators, while being more efficient and cost effective for the department. In addition, the department will receive all of the benefits of moving to a digital format for filing reports, including getting access to detailed accident data and diagrams.