---
Latest News: Successful Police Entrance Exam
On October 3, 2015, the Walpole Police Department held it's first independent entrance examination. There were 173 people who showed up to take the test, and we would like to take this opportunity to thank everyone for their participation.
In the following weeks, we have received a number of questions about the exam, and our hiring process going forward, so here is some information.
All 173 participants were sent an email explaining how the process will proceed moving forward. At this time there are two (2) openings, and based on those openings a pool of candidates were chosen based on examination score.
However, please note, the remaining candidates who did not score in the range selected to continue this time around, will remain on the active examination score list. If there are openings in the future, the Department may decide to return to this list for more applicants.
The Department will hold a similar entrance examination every two (2) years, depending on funding and openings. Those examinations will similarly be announced on this website, and the Walpole Police Facebook page. Thank you again.
Latest News: Center of Town Traffic Detour Plan
In May of 2015, Town Meeting voted to appropriate money to improve the roadways, sidewalks and traffic signals in the Downtown Commercial District (the center of town). Some of the larger phases of the plan are set to begin soon, therefore the Department of Public Works has released a Paving Schedule and Traffic Management Plan to help guide residents around the construction over the next few weeks.
Please click the link below for more information.
>>> SCHEDULE AND DETOUR PLANS <<<
Latest News: Police Officer Entrance Exam Announced
The Walpole Police Department will be holding an entrance level police officer exam on October 03, 2015. Anyone interested in pursuing a career in law enforcement is encouraged to participate.
Please review the attached link for details and hiring requirements. This link will answer most of your questions, however, some of the common questions have been:
(1) You must be 21 at the time of the exam, there is no maximum age limit.
(2) There is no residency requirement to take the test. However, within one (1) year of appointment, employees shall reside within fifteen miles of the limits of the Town of Walpole, in accordance with Massachusetts General Law.
(3) You must possess at least an Associate's Degree from an accredited college/university, or possess a high school diploma/G.E.D. equivalent and have achieved veteran's status with the United States Armed Forces as defined by Massachusetts General Law.
(4) There are no automatic points awarded for veteran's status or residency status. However, military service and residency within the Town of Walpole ARE part of the criteria taken into consideration during the application process.
(5) There is no make-up date. However, members of the Armed Forces who are on active duty and unable to attend due to military assignments, may qualify for, and be given a future make up opportunity to take the exam with Public Safety LLC.
>> Follow This Link To Begin the Process <<
Good Luck !!!
Latest News: Chief Carmichael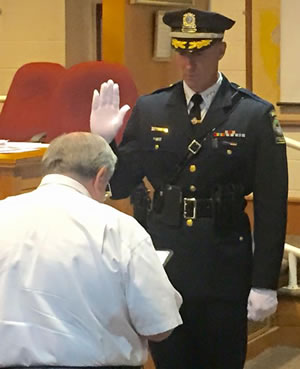 On July 14, 2015, Deputy Chief John Carmichael was sworn in as Walpole's newest Chief of Police. Although not officially taking over the department until July 18th, Chief Carmichael was appointed by the Board of Selectmen in a packed ceremony, attended by family and friends, representatives from many surrounding police departments, and many of Walpole's sworn and civilian staff.
Chief Carmichael began his career in 1989 as a member of the Medfield Police Department before transferring to Walpole in 1996. He has held the positions of Patrol Sergeant and Detective Sergeant, before being named the department's Deputy Chief 2010.
Since arriving in Walpole, Chief Carmichael has been involved in the department's honor guard, motorcycle unit, RAD program, and DARE program. Chief Carmichael is also heavily involved in the Norfolk County Police Anti Crime task force (NORPAC), leading numerous successful operations.
Chief Carmichael has been a leading force in proactive policing and is an authority on the illegal narcotics epidemic. Chief Carmichael is well respected within the law enforcement community, the Town of Walpole, and by all members of this department. We know that he will continue to excel in this new post and uphold the virtues to which we subscribe. Please join us in congratulating Chief John Carmichael as he assumes his new role and leads the department into the future.
Latest News: Walpole Police Citizen Survey

The survey that many of you completed in 2014 was published late in the year and reinforces the community's support of the police. Yes, there are areas we need to continue to work on and improve, but the vast majority (97%) felt the Walpole Police was responsive to their needs. When asked how well the WPD does in providing services to the community, 96% answered either excellent or good. The citizens provided us with an overwhelming response, with over 3,000 surveys returned. View the complete survey by clicking on the link below.

>> Walpole Police Department: Citizen Survey <<