---
Latest News: Dunk-A-Cop At Walpole Day A Success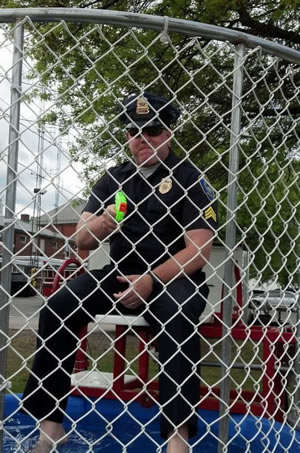 For the past several years, Officer Jackie Hazeldine has organized a very popular charity event at the local "Walpole Day" festivities. The "Dunk-A-Cop" event was a huge success again this year, raising money for the local "radKIDS" program.
For a small donation, participants throw balls and try to hit the bull's-eye of a target, sending one of their very own (fully uniformed) Walpole Police Officers into the water. The event is a great opportunity for officers to interact with kids while raising money for a worthy program.
Sergeant Chris Mackenzie spent a little time in the hot seat that day, and is pictured above joking around with a toy gun. Unfortunately, the joke didn't last very long and Sgt. Mackenzie was sent to the bottom of the tank (below). A big thanks to Officer Hazeldine for organizing the event, Sgt. Mackenzie and all the other officers that volunteered to get dunked.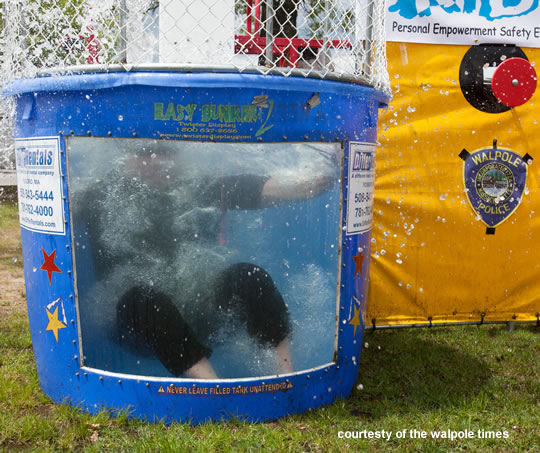 Latest News: WPD Officers Train For "Active Shooter" Scenarios
Over the past two (2) weeks, Walpole Police Officers have conducted a variety of life-like training scenarios simulating "Active Shooter" incidents. The Columbine High School tragedy is an example of an active shooter incident, where armed perpetrators enter a building and actively kill, or attempt to kill people in a confined space.
The Walpole Police have continued this ongoing training for several years, conducting in-depth training in the schools, using life-like scenarios and simunition weapons. Simunitions are similar to paintball ammunition; however, unlike paintball, officers train using their model firearm and magazines, but the rounds fire a low velocity paint cartridge.
Led by Lieutenant Fred Leland and the Walpole Police Firearms Instructors, officers engaged a variety simulated active shooter incidents. At the end of the scenarios the officers discussed the tactics used, and how they could be improved. Officers had the chance to play both "good guys" and "bad guys" to give them a perspective from both angles and increase the training experience. Training of this quality is priceless and gives officers the opportunity to improve their skills in a safe environment, using the most life-like scenarios possible.
Below is a picture of the training, and shows bystanders fleeing the area, and responding officers covering the hallway while the bystanders are searched. For more pictures, see the slideshow at the top of the page.
Latest News: Exciting New Event at Bird Park - Police Bike-Along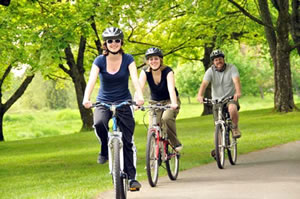 Bird Park Police Bike-Along
Francis William Bird Park
East Walpole
May 25, 2013 from 1-5pm
Cost: FREE

The Friends of Bird Park and the Walpole Police Department have teamed up to offer a unique experience to learn about bicycle safety. Children and adults are invited to visit the park and attend a bicycle safety clinic taught by the Walpole Police Bike Patrol. Visitors will then have the opportunity to "Bike-Along" with the Walpole Police Bike Patrol, and enjoy a ride around beautiful Bird Park.
Participants are asked to bring their own helmet. The event is free for all, and refreshments will be sold to benefit the park. For more information please contact the park office at 508.668.6136 or email birdpark@ttor.org.
Latest News: The "FBI" Fine Scam
We are starting to receive numerous reports of people falling for an internet scam known as the "FBI MoneyPak" scam.
HOW IT WORKS: You are browsing the internet on your computer when a window pops up on your screen that looks like this: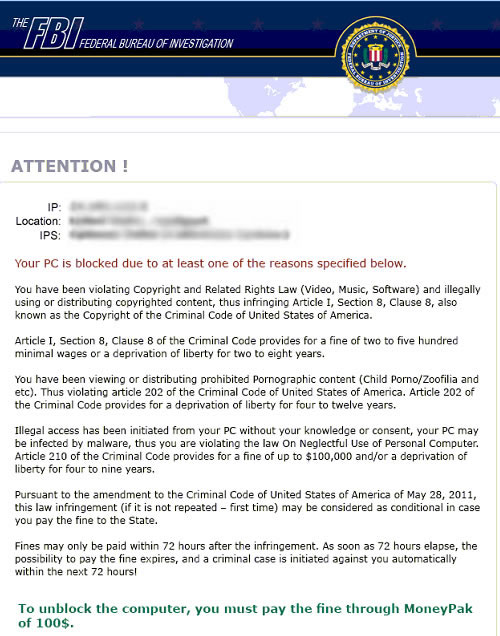 The popup screen is a warning, and it has the FBI logo on it. The warning says you were breaking a federal law on the internet, so the "FBI" has locked your computer, and is going to fine you. You try to close the window, but you can't. Your computer is completely locked down. The warning says you need to pay a fine before your computer will be unlocked.
HOW THE SCAM IS SUCCESSFUL: This scam is successful for the same reason all other internet scams are successful, a lack of understanding of how the internet works. I have spoken to people who have fallen for this, and they believed this message was legitimately from the FBI because it "looked real". It is important for people to understand that any computer savvy person could make a message like the one above in 10 minutes. Just because there is an FBI logo, does not mean it is from the FBI.
But how did they lock down your computer? Only the FBI would have power like that, right? Simple, you have a computer virus.
Here is an analogy. Your phone rings right now, and a man on the other end says he is an FBI agent. He says you need to pay him a $200 fine. If that happened, you would laugh and hang up on him. Yet when the exact same thing happens over the internet, people pay the money. This is why internet scams work. For some reason everyone believes what they read on the internet.
HOW TO PROTECT YOURSELF: The most important thing here is common sense. Let me assure you, if you broke a federal law, the FBI isn't going to tell you about it over a computer message. They'll come to your door.
Most importantly, the #1 rule of protecting yourself from a scam; never, ever, ever, wire money to anyone. Every internet scam you will ever see ends with the same line, "please wire your money to me". They will tell you a thousand things over the internet, over email, over the phone, it doesn't matter, they all end with you wiring money to them.
WHAT IF IT HAPPENS TO ME?: Turn off your computer. Bring it to a computer expert, have them clean it up, and buy antivirus software for them to load on it before you bring your computer back home.
The best course of action here is to educate yourself and your family. Money sent to these scams; it's gone. These scams are run from overseas, and they purposely have you wire the money because once it's sent, you can't get it back. Your best bet is to report the situation to www.IC3.gov (a division of the real FBI), because they are the only ones who can pursue these cases. Then do everything you can to educate yourself and your family.
Latest News: Road Trip Video
We posted the article below last month when more than 250 police officers from Massachusetts made a Christmas wish come true for a young boy.
Check out the video of the trip below, it is an amazing video created by Sgt. John Bonney of the Stoughton Police Department. If you look closely, you can see Walpole Police Officers Jim Dolan and Jim Moses, who made the trip.
Due to YouTube restrictions, the video below MAY redirect you directly to YouTube; however, the video will work by clicking "Watch on YouTube". Enjoy.



Original News Story From December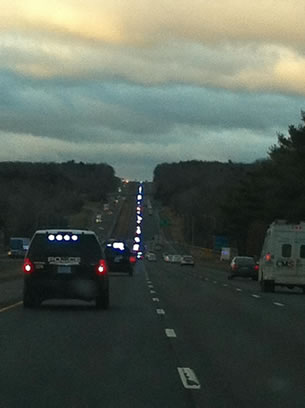 A few weeks ago, we received a request from the Virginia State Police on behalf of a sick little boy in their state. Five year old Nathan, who is battling brain cancer, is a remarkable boy whose webpage can be seen here.
Despite his illness, Nathan and his family collect and distribute holiday gifts to other sick children, and for Christmas this year, Nathan wanted more than anything to get Christmas cards from police officers. So, the Virginia State Police sent out a call for help to see if any police departments would send Nathan a card, or a photo for the holidays.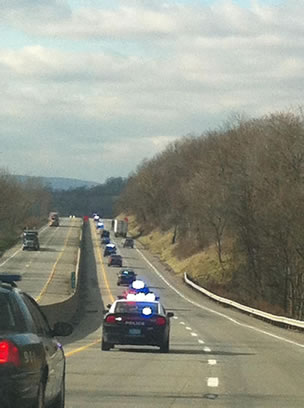 Many departments, including Walpole, participated. However, rather than mail the cards to Nathan, they are going to hand-deliver them today. Right now, hundreds of police officers from all over New England are in a giant police convoy of more than 94 police cruisers. They are on their way to visit Nathan and give him his present in person. Right now, they are passing Hershey Pennsylvania, and as you can see from the photos, there are a lot of them. The lights in the photo go as far as the eye can see, and they are all police cars headed to see Nathan.
Officers Jim Dolan and Jim Moses are representing Walpole in the convoy, and are going down to let Nathan know that everything he does for others, even while sick, is inspiring for us all.