Past News Stories (*scroll down to see more*)
---
Walpole Fares Well In Blizzard '13
Walpole did pretty well over the weekend considering Massachusetts had two (2) feet of snow dumped on it in a 24-hour period. The Blizzard of 2013 was handled in stride, with very few power outages, and no requests for shelter.
It was comparatively quiet from the police side of things. Say what you will about the Governor's driving ban, but we only had a single motor vehicle accident during the entire storm. Even minor snow storms typically generate a lot of calls for accidents or cars off the road. We did get quite a few calls about the driving ban, however, it is better to field phone calls than respond to accidents.
As for police calls, obviously our call volume was higher than normal. We received more calls during the storm than we had during any single day in 2013. During the height of the storm, we were receiving calls roughly every 3 minutes, with the busiest times being 2pm and 8pm on Friday. Most of these calls were informational in nature, however, we did receive several medicals during the storm, several requests to check on people's well-being, and a few trees down. On the whole, Walpole residents played it smart, and hunkered down for the night.
All the officers and dispatchers who worked during the storm should be commended for their dedication and hard work. In fact, the same goes for all Town departments who handled their rolls perfectly during a historic storm.
In between their calls, we asked a few officers to document the storm using their cameras, and you can see a few great photos by Officer Thayer in the slideshow above. Officer Thayer also knows the golden rule of policing, when they ask you to go document how much snow we received, it's the new guy that has to climb the snow bank, not you.
Below, Officer Crown scientifically measures the snow depths in Walpole, his report was "we got a lot".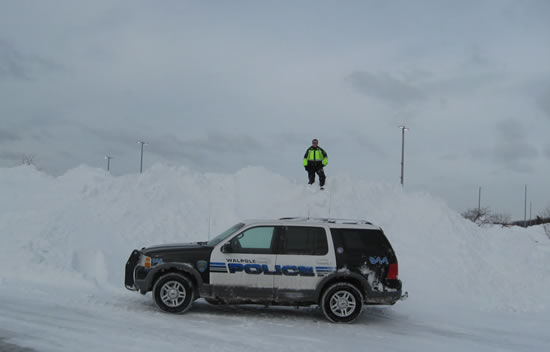 Are You Missing Packages Sent Via U.S. Mail?
As a result of a joint investigation between the United States Postal Service Inspector General's Office and the Walpole Police Department, a part time postal employee was arrested for tampering with packages and stealing the contents, including numerous gift cards (pictured below).
The suspect would target expensive items, such as iPhone's, GPS systems, Amazon Kindle's, and the above mentioned gift cards that passed through the post office where she worked.
If you mailed one of these items, or were expecting to receive one of these items via the U.S. Mail, and are currently missing your packages, please contact the Walpole Police Detectives at (508) 668-1095, and ask to speak with Detective Kelleher.
Another Successful R.A.D. Class Wraps Up
The Walpole Police Department recently wrapped up another successful month of it's popular Rape Aggression Defense class (R.A.D.), which you can read more about on the R.A.D. Page.
The Rape Aggression Defense System is a program of realistic self-defense tactics and techniques for women. R.A.D. is a comprehensive, women-only course that begins with awareness, prevention, risk reduction and risk avoidance, while progressing on to the basics of hands-on defense training.
The R.A.D. program is led by Officer Jackie Hazeldine, and her team of Walpole Police Officers, who are all certified instructors. They start off with classroom instruction, and then move into hands-on training with specially equipped officers as seen in the photo below. From left, Officers Lagoa, Thayer and Parlon take a rest from getting beat up.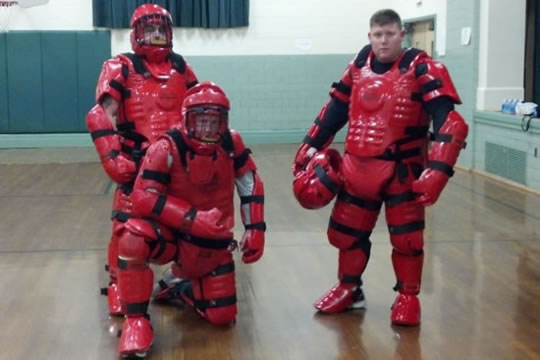 The R.A.D. classes are held twice a year, meeting once a week for 4 weeks. Officer Hazeldine reports they had another great turnout for this class, and they are working to schedule another class in early Summer. When classes are scheduled, they are announced here on WalpolePD.com, so keep an eye out, or you can "like us" on the Walpole R.A.D. Facebook page to receive updates.
Officer Hazeldine also had some exciting news to report. The R.A.D. program applied for a grant with the Wal-Mart Local Community Giving Program, and was awarded funds for new equipment. Combined with a generous donation from the Walpole Junior Women's Club, they will be able to buy new student equipment for the next class.
In addition, with the popularity of the adult class, the R.A.D. Team is looking into expanding the program to include a class geared toward children. These classes would focus more on "stranger danger" scenarios, and how pre-teen children can identify and protect themselves from potentially dangerous situations. This program is in the works, so keep an eye here for more details.
Walpole Officers Travel to NY for Hurricane Relief
Three (3) Walpole Police Officers spent part of their Veterans Day weekend bringing much needed emergency supplies to the victims of Hurricane Sandy.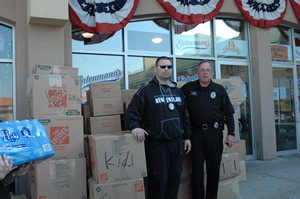 Walpole Police Officers Steve Foley, Jim Moses (both pictured to the left in front of a mound of donations) and Jackie Hazeldine collected donations from fellow officers and were able to buy hundreds of dollars worth of supplies from Wal-Mart, who also generously donated to the cause.
From there, they joined with Stoughton, Sharon and Brockton Police and were able to fill 2 box trucks full of donations. Everything from winter clothing, to food and water was packed into box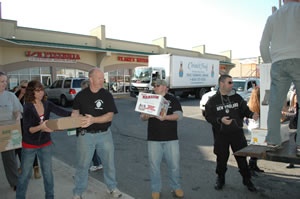 trucks, and Officers Foley and Moses took the road trip down to Staten Island with several officers from the other departments. The Stoughton Police were able to coordinate with local charities prior to the trip, and once there, they met up and were able to distribute the goods to the needy families still reeling from Hurricane Sandy.
Officer Foley said some of the people they spoke with had not seen any government assistance to date, and that they have been depending on the generosity of normal, every day citizens who have banded together to organize events just like this one. The Walpole Police Department would like to thank Officers Foley, Moses and Hazeldine, as well as their counterparts from Stoughton, Sharon and Brockton, for their self-less devotion to helping others.
To see some of the photos from their trip, simply scroll up and look at the slide show at the top of the page.
Patrolman Save Fellow Officer
CBS News Reporter Jim Armstrong stopped by last night to interview several of the Patrolman who helped save a fellow officer who suffered a heart attack during the Night Before the 4th festivities. Seen right, is Deputy Chief John Carmichael recalling the event for the cameras.
For those who have not heard, on July 3rd, dozens of officers were gathering in the roll-call room for an event briefing before the annual parade and fireworks display. Before the briefing began, veteran Walpole Police Officer Robert Simmons started having a heart attack.
Many officers sprung in to action; moving Officer Simmons to the floor, clearing the room, starting CPR, removing his equipment and running for the defibrillator stored on the first floor of the police station.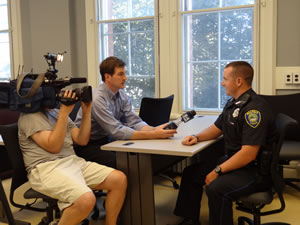 Officer Simmons was hooked up to the defibrillator, retrieved by Officer Tolland (left), and a shock was given with no response. He was shocked a second time "and he sat up like nothing had happened", said Officer Moses during the CBS interviews. The Walpole Fire Department Medics were quickly on scene, and Officer Simmons was transported to the hospital. Officer Simmons is doing well, and is back on his feet. An ironic twist to this story is Officer Simmons is in charge of the defibrillators, and responsible for their purchase and maintenance.
Officers Manganello, Moses, Tolland, and countless others are credited with saving a fellow officer's life. The entire Town of Walpole should be proud of their quick-thinking and decisive action, and the Walpole Police Department is grateful for the work of everyone in the room that day.
.: See the story here, courtesy of Jim Armstrong and WBZ-TV Channel 4 :.
Tragedy in Newtown
The events last Friday are sad beyond comprehension and hopefully, as a nation, we can work to reduce school violence in the coming months and years.
In the meantime, I want all Walpole residents to know their police department takes the issue of school safety to heart. We work with School Superintendent Lynch, the principals, and all the staff on a regular basis to share ideas and concerns. We are here as a resource to our community so please do not hesitate to call with concerns of public safety.
We are including some tips below as one resource to help parents talk to their children about this tragedy. The Walpole Schools have this, and other resources, on their web page which can be found at the following link: www.walpole.k12.ma.us.
Schools are still the safest place for children but we need to continue work together to make them even safer. Thank you.

Richard B. Stillman
Chief of Police
Talking With Your Children About Traumatic Events
Here are some tips for talking with your children when they have witnessed or heard about traumatic events:
Listen to your children: Ask what have they heard about the traumatic event. What do they think happened? Let them tell you in their own words and answer their questions. Don't assume you know what they are feeling or what their questions will be. The easiest way to have this conversation might be while they are engaged in an activity: drawing, sitting on a swing, or driving with you in the car. Details that may be obvious to adults may not be to children. For example a child may see a school shooting on television and assume it happened in his or her neighborhood not hundreds of miles away. Be truthful but don't tell them more information than they can handle for their age.
Focus on their safety: Once you understand their perception of the traumatic event, be clear that you will keep them safe and let them know adults (school, police, etc.) are working hard to make sure they will stay safe. School age children may be assured to know the shooter or persons responsible for this tragedy are dead or have been arrested and do not present a danger to your child or his or her school.
Pay attention to your reactions: Your children will be watching you carefully and taking their cues from you. If you can manage your anxiety about the traumatic event your children will be more easily reassured.
Monitor your child's access to media: It will help if young children do not watch news reports or see the front page of the newspaper. Young children who watch a traumatic event on the TV news may think the event is still ongoing or happening again.
Watch for behavior changes: Your children may show you through their behavior they are still struggling with what they have heard or seen. They may have physical complaints or regressive behaviors often including nightmares, insomnia or bed wetting. They may feel guilty that they are responsible for the event, and need to be reassured that they are not responsible.
Maintain your routines: Sticking to your daily structure of activities: mealtimes, bedtime rituals, etc. reduces anxiety and helps children feel more in control.
Keep the door open: Encourage your children to come to you with any questions or concerns and do not assume the questions will stop after a few days. Let them know their fears and questions are normal and you will always make time for them. Remind them all questions are welcome.
Consider this a teachable moment: For older children this traumatic event may lead to a discussion about ways they can help others who have experienced a tragedy. You can also ask them if they know how to keep themselves safe when they are away from home. Traumatic events make us feel like we have lost control so any constructive activities we engage in make us feel less vulnerable.
Website for Help with Substance Abuse
Part of our duties in the enforcement of drug laws includes education, prevention, treatment and enforcement mechanisms. Treatment is an important component of diminishing drug use and ancillary crime, so we thought it would be a good idea to put this fantastic website up as a resource for individuals or families to seek treatment.
The Massachusetts Substance Abuse Information and Education Helpline provides free and confidential information and referrals for alcohol and other drug abuse problems and related concerns. The Helpline is committed to linking consumers with comprehensive, accurate, and current information about treatment and prevention services throughout Massachusetts.
Click the link below to visit the website:
Massachusetts Substance Abuse Information and Education Website
Students Taught About Alcohol
Members of the Walpole Police Department taught Walpole's 8th Grade Students about the effects and dangers of alcohol last week. Using a curriculum created by the Walpole Coalition for Alcohol & Drug Awareness, students were taught about the age of onset, the effects of alcohol, and the consequences of using alcohol. They were also given valuable lessons like how to spot and avoid peer pressure.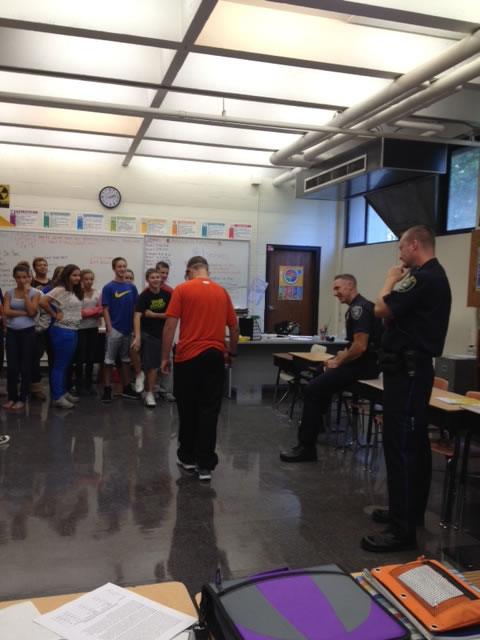 Students were given a chance to experience the effects of alcohol first hand, as they tested out "beer goggles" which simulate the intoxicating feelings of alcohol. In the photograph above, Deputy Chief John Carmichael and Patrolman John Thayer have students perform some simple tasks with the "beer goggles" on, or at least they attempt the tasks. These exercises give the students a respect for just how dangerous alcohol impairment can be.
Rash of Car Breaks
During the month of October twelve (12) vehicles were reportedly broken in to, and items stolen from cars parked right in people's driveways. Items that are commonly stolen are change, sunglasses and electronics; like laptops and GPS systems.
Of the twelve (12) vehicles, none were reportedly locked, and none were damaged to gain entry. In addition, these types of crimes generate very little eye-witness information, making investigating the crimes very difficult.
The moral of the story here; crime prevention is the best weapon to fight crimes like this. Car breaks are a crime of opportunity. History tells us that the culprits are not career criminals with the desire to smash windows or the skill to "slim-jim" your locks. They will select the easy, unlocked, targets and pass by the locked ones.
The Walpole Police Department responds to, and investigates each of these reports; and we have had some success in the past apprehending suspects. However, these cases are notoriously difficult to solve. You can help protect yourself by following these 5 simple crime prevention tips:
(1) Lock your doors and roll up all windows.
(2) Yes, even in your driveway!!! We hear this all the time. Your driveway offers no protection. If a criminal is going to rob you, they aren't really going to worry about trespassing on your private property.
(3) Don't keep valuables in your car. Bring your laptops inside at night, or at the very least don't leave anything out in the open.
(4) Be wary of people roaming the neighborhood. We have reports of past suspects using trash day as a cover for roaming neighborhoods. If they are spotted, they can just say they were collecting cans or something. Report any suspicious activity in your neighborhood to the police.
(5) Lock your doors and roll up all windows.
Hurricane Sandy
Hurricane Sandy hit Walpole on Monday, causing a variety of problems and an increase in activity for Town departments. In anticipation for the storm, the Emergency Operations Center was staffed with representatives from each department to help coordinate responses, and extra staff was called in for essential personnel (i.e. police, fire, dpw).
All-in-all it was a smooth operation. The police department alone fielded more than 200 telephone calls (33 of which were 911). These calls generated more than 60 unique incidents during the storms busiest period from 8am to 8pm. Calls came in rather steadily throughout the day until about 3pm when the call volume skyrocketed to about 30 calls per hour. When you consider the average call is a little more than 1 minute in length, that means calls were pretty much non-stop during this hour.
The majority of the calls were the basic storm damage; trees down, wires down etc. Washington Street, in South Walpole, experienced the most wide-spread outages as a transformer came crashing to the ground in flames at roughly 3:30pm. A large section of Washington St. had to be shut down to traffic, and an even larger section of the power grid had to be shut-off so the electric company could solve the problem. Below you can see the transformer burning in the background as Officer Moses braves the weather to stop traffic.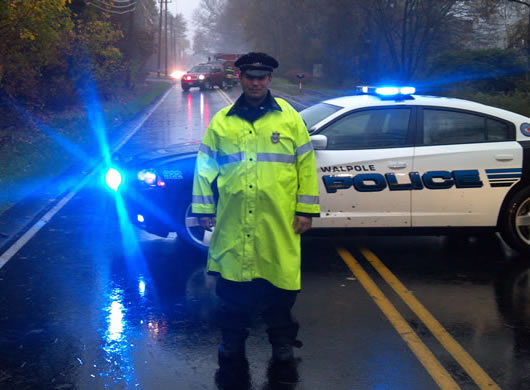 You can check out a few more photos in the slideshow at the top of the page. A round of applause should go out to all the members of the various town departments, who spent all day and night bouncing from call-to-call to check downed wires, protect the motoring public, and clearing trees from the road. Police, Fire, and all the various Public Works crews worked tirelessly to keep Walpole in pretty great shape.
Sobriety Checkpoint
The Walpole Police Department and the Massachusetts State Police conducted a Sobriety Checkpoint this weekend along Route 1 in Walpole (pictured below).
The purpose of the checkpoint is to "further educate the motoring public and strengthen the public's awareness to the need of detecting and removing those motorists who operate under the influence of alcohol and/or drugs from our roadways."
The sobriety checkpoint was a success, resulting in eight (8) arrests for OUI while promoting, and stressing the importance of keeping our roads safe from impaired drivers.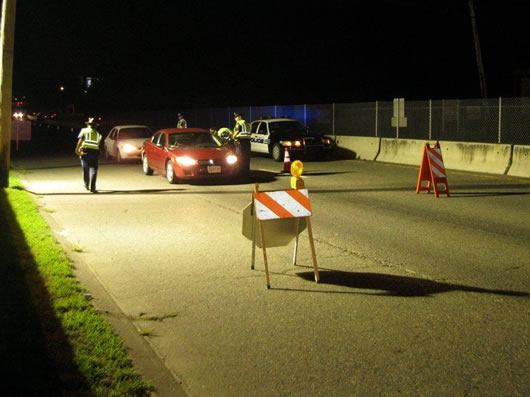 Walpole Coalition for Alcohol & Drug Awareness
The Walpole Recreation Department was kind enough to invite over members of the Walpole Police Department for a little photo-op to promote the Walpole Coalition for Alcohol & Drug Awareness.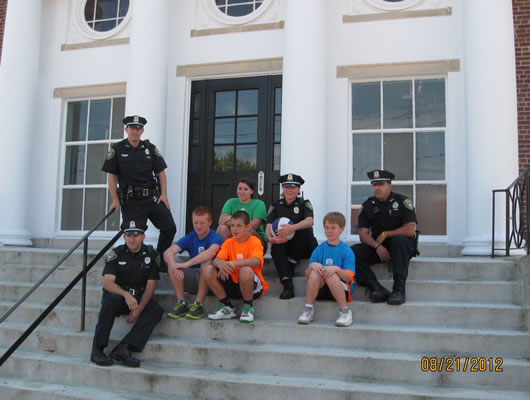 The program involves a number organizations around town, who have come together to tackle the problem of underage drinking and drug use. As part of the program, the Recreation Department holds a variety of events where kids get a chance to interact with members of the Walpole Police Department (and destroy them in dodgeball games). Take a look at the slide-show above and you will see some good examples. However, it is events and interactions like these that allow members of the Recreation Department, Police Department and many other involved groups, to build relationships and create an atmosphere for learning about the dangers of substance abuse.
Cyclist Hit-&-Run
At approximately 11:30PM, on Saturday evening, September 15th, a bicyclist was struck from behind while riding her bike along Washington Street in the area of Clinton Avenue (South Walpole). The cyclist was traveling southbound when a vehicle, traveling in the same direction, struck her from behind with the right-front end of the vehicle. The cyclist was thrown from the bicycle, at which time the involved vehicle fled the scene without stopping.
The cyclist sustained serious injuries as a result of the crash. Walpole Police Officers recovered several evidentiary items at the scene, and are interested in a dark colored vehicle having front, right headlight assembly damage.
The Walpole Police Department Detective Division and Crash Reconstruction Team are investigating this incident, but need your help. If anyone has any information about this incident, were in this area around this time, or are aware of a dark colored vehicle suffering recent right-front end damage; they as asked to call the station at (508) 668-1095 and as for the Detective Division.
Med-Flight Called For MVA
Med-Flight was called in after a single-vehicle crash on Elm St. The Walpole Police Crash Reconstruction Team responded and is investigating.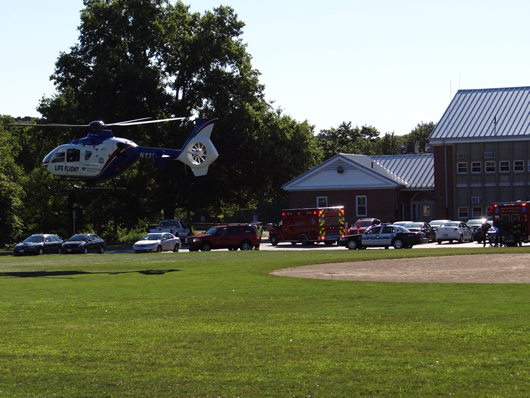 Stolen Car Stuck On Railroad Tracks
On 06/13/2012, Walpole Police received a call about a vehicle stuck on the railroad tracks in the Plimpton Street area. Officers responded to the area and found a stolen Cadillac Escalade stuck on the tracks. The vehicle tires were spinning in an attempt to get free, however, officers had to traverse through the woods, and down a steep hill, to get to the vehicle. By the time they arrived, the operator had fled, but officers spotted a man fleeing the scene through the woods, and followed him.
Officers caught up with, and spoke to James K. Taylor, of Canton (where the vehicle was stolen), who had obvious injuries. Officers obtained enough information to arrest Mr. Taylor for receiving stolen property (motor vehicle). Canton Police were able to locate the rightful owner of the vehicle, and the suspect had personal effects, which could be traced back to the owner of the vehicle, on his person.
Canton Police also learned the car keys were left in the vehicle. The victim's car sustained massive damage during this ordeal. This is a valuable lesson to always lock your vehicle, and never leave your keys inside.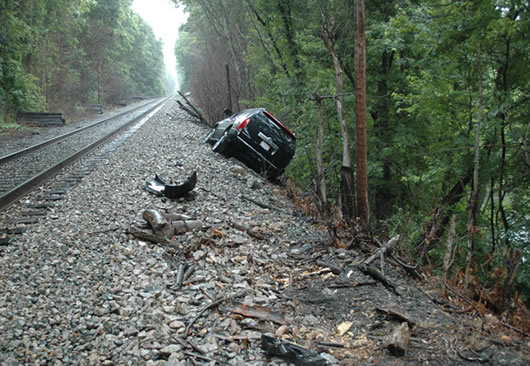 The Walpole Police Collision Reconstruction Unit discovered later that vehicle left Plimpton St., to the right of the Snoopy Rock, and tried to get up the hill to the train tracks. It didn't quit make it. It was perched on a ledge overlooking a ravine, and could not be removed without the help of the MBTA and heavy equipment.
Mr. Taylor was charged with multiple crimes included several counts of receiving stolen property, several counts of possession of a Class E substance, destruction of property, trespassing, leaving the scene of property damage, operating without a license and reckless operation.
Stoughton Bank Robber Suspect Arrested
On 06/11/2012, Walpole Police received a broadcast to be on the look out for a vehicle traveling on Route 1. The passengers were wanted for questioning after they were seen attempting to use money stained with red dye at a supermarket in Norwood. Dye-packs are commonly used by banks to permanently mark stolen money.
The suspects were stopped by an alert Walpole Officer, Ptl. Musick, after being spotted on Route 1. In a cooperative effort between Walpole, Norwood and Stoughton, it was learned that the operators of the vehicle were wanted in connection with a bank robbery that occurred in Stoughton earlier in the day.
The Western Bank, in Stoughton, was robbed around 3pm by a white male wearing a yellow shirt. While fleeing the scene, a dye-pack exploded in the bag of money.
Nicholas Twomey (Brockton) was charged with possession of a dangerous weapon, receiving stolen property and several motor vehicle violations. He was subsequently transferred to Stoughton Police, where he was charged further with unarmed bank robbery.
The passenger, Jason Ricciarelli (Stoughton) gave officer's a false name in an attempt to conceal the fact that he had an outstanding warrant. His real identity was uncovered. He was arrested for the warrant and charged further with giving a false name to a police officer, and receiving stolen property.
Mock Car Crash
The Walpole Police Department, in conjunction with the Walpole Fire Department and Walpole High School, conducted a Mock Crash Scene on Thursday, May 17th. The purpose of the Mock Crash was to educate the students of the Walpole High School on the consequences of under-aged drinking and drunk driving.
Unfortunately, car crashes are the leading cause of death for young people between the ages of 15 and 20 years old. Juniors and Seniors gathered in front of the Walpole High School to witness a full-scale, mock, crash response by police and fire, to demonstrate the actions of first responders in the event of a serious collision.
Students from the Drama Club acted as the operators and witnesses, and did an excellent job as roll players. The scene itself was chaotic, as it would be in real life. Police Officers were dealing with emotional witnesses, and giving field sobriety tests to an impaired driver. The Collision Reconstruction Unit was called to investigate. There were fire fighters working to extricate injured parties, as well as a passenger that "died" as a result of the crash.
The whole event was narrated in order to draw the students attention to different parts of the scene as it unfolded. The goal of the Mock Crash is to send the students off to the prom with the understanding to have fun, but realize the severity and potential consequences that could occur with irresponsible actions.
The Walpole Police Department Collision Reconstruction Unit was on hand to demonstrate their techniques, and Reconstruction Specialist Officer Steve Foley took some amazing photos of the event. Check out the photo slide-show at the top of the page.