Programs & Initiatives
---
Bike Patrol Unit
Since the late 90's, members of the Walpole Police Department Bike Patrol Unit have escorted and protected celebrations, parades and road races all over Walpole, year round. From the St. Patrick's Day Parade, to the fireworks, to the Santa Parade, these specially trained and outfitted officers patrol on bicycle to ensure safe and successful events all around Walpole.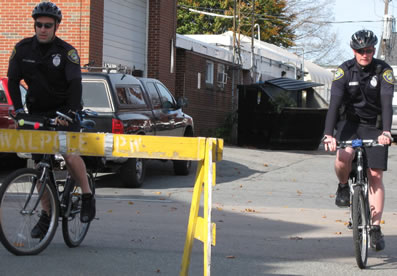 The size and maneuverability of the bicycles makes them the perfect tool for difficult, crowded events, where the use of a police car would be impossible. More maneuverable than a car, and faster than an officer on foot, this unit has been helping keep events safe for more than a decade. In 2011, three (3) new COBWEB trained officers were added to the unit, as work began to revitalize this valuable community program.
The year 2012 was a big year for the Bike Patrol. Our equipment had seen better days after 15 years of riding these bikes nearly year round, in all sorts of weather. Officers had resorted to buying their own equipment (like seats) with their own money and wearing hand-me-down uniforms. The dedication of this unit is inspiring, and the band-aid approach was no longer working.
So, members of the unit tried fund-raising in an effort to get a few new uniforms and bikes. We had a small goal, hoping we could at least replace some of the old bikes. We greatly underestimated the support of the public. Led by Officer John Thayer and Lieutenant Joe Zanghetti, the fund-raising effort brought in more than $10,000. We were blown away by the generosity of local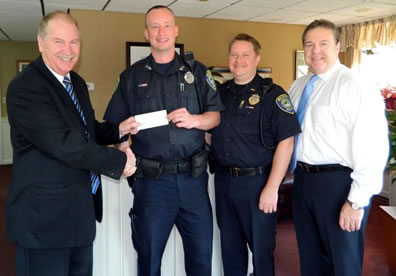 businesses and organizations like the Friends of St. Patrick (pictured), Walpole Chamber of Commerce, Walpole Campfire Boys & Girls, Walpole Cooperative Bank and several private citizens. We cannot thank these people enough. With that money, we were able to outfit the entire Bike Patrol, and get six (6) new bikes that will last us a long time.
Tips From The Bike Patrol Unit
Remember that your bicycle is a vehicle. You follow the same rules of the road, and you have the same rights and responsibilities, as when driving a car.
-Be predictable- Operating outside the rules of the road is unexpected and may lead to crashes.
-Be visible- Wear bright colors during the day. Use reflectors and lights during the night. Make sure others can see you and you can see the road.
-Communicate with other drivers- Make eye contact with them to be sure you have been seen. Signal your turns and lane changes.
-Ride with traffic- Riding against traffic is against the law–as well as being unpredictable–especially to drivers at intersections, driveways or parking spaces. Bike lanes go one-way only, in the same direction as adjacent traffic, unless signed otherwise. Ride at least 3 feet from parked cars to avoid being hit by a suddenly opened car door and to be visible. Always look behind you for traffic before changing your position on the road. Cross railroad tracks at a right angle to avoid getting your front wheel caught and falling.
-Ride defensively- Be aware of what is going on around you, and watch for others' mistakes. Some common situations to watch for include: a motorist coming towards you who turns left in front of you; a motorist passing you and then turning right in front of you; a motorist pulling out from a stop sign, driveway, or parking space without yielding to you.
-Wear a helmet- Head injuries cause 75% of bicyclist deaths. Recent studies indicate that wearing a helmet can reduce your chance of a head injury by 85%. Protect yourself from the unexpected by wearing your helmet whenever you ride.