Programs & Initiatives
---
Overview
Since 2014, police departments have focused on implementing many of the recommendations contained in the report generated by President Obama's Task Force on 21st Century Policing.  Prior to the establishment of that Task Force, the Walpole Police Department had already begun implementing a strategy that was similar to the recommendations subsequently released in the Task Forces' report.  The Walpole Police Department has successfully integrated several community based programs into the fabric of police operations in Walpole and his efforts have been recognized locally and nationally on various platforms.  Over ten years ago, the Walpole Police Department implemented a systematic plan, designed to change the departments approach to policing and the public's perception of police officers in general.  Through several carefully planned stages, the leadership in our department has been able to transform the Walpole Police Department into a proactive, transparent and accountable organization with a specific focus on community based policing and forging community partnerships.
This section displays the various programs, initiatives and special assignments created by the department to serve the community. Most officers help with these programs in addition to their normal duties as patrol officers.
Catching Kids Doing Right - Positive Tickets
This program is designed to produce positive interactions between members of the police department and the youth of the community.  In 2015, the department instituted the program after approaching a local business seeking to purchase coupons for free ice creams that could be attached to a positive ticket that would be distributed by officers to the community youth.  The business owner was so taken by the prospect of such an endeavor that he refused payment and then donated, free of charge, over 1,000 free ice cream coupons.  Officers were then tasked with issuing positive tickets to all children that they witnessed "doing good."  Examples of incidents where a ticket has been issued include, the use of a crosswalk when crossing the street, wearing proper safety equipment when riding a bicycle, or helping another person when they are in need.
The positive ticket campaign gained immediate local and national notoriety.  Officers received positive news coverage on several local news channels as well as several national channels.  Since its inception, the positive ticket campaign has received numerous donations from local businesses that has allowed it to flourish over the past five (5) years.  This program was also cited by the Department of Justice's Community Oriented Policing Services Website as an example of a police department turning President Obama's Task Force recommendations into action.
Ride-to-School Program
Our SRO pioneered our ride to school program where each month a student is given a full police escort from his or her home to school. This program gives our officers another chance to interact with the children of the community, and the families love it.
Cops Corner
Established in 2011, this program involves Walpole Police Officers that write columns in the community's local newspaper on a regular basis.  The program is designed to provide another medium for officers to reach connect with ordinary citizens so that we may better serve the community and tell our story. A wide variety of topics are covered and articles are developed based on community feedback and criminal trends at that time.  The program has become very successful and the feedback from the community has been tremendous.  At the request of the publisher, officers articles are frequently published regionally in other communities and several have been republished up by national organizations, such as the National Center for Missing and Exploited Children.
Walpole Community Crisis Intervention Team (CCIT)
Incidents involving mental health and substance abuse issues have become a significant concern for police departments across the nation.  In response to this growing concern, in 2013, the Walpole Police Department, with the assistance of the members of the Taunton CCIT, established the Walpole Community Crisis Intervention Team ("CCIT").  The Walpole Police sought to establish a CCIT unit to find better means of dealing with individuals that suffer from mental illness and substance abuse.  Lieutenant Fred Leland (ret) was able to bring together several stakeholders from various agencies, including, members of various mental health agencies, advocates, representatives from the Walpole schools, representatives from the Fire Department, a liaison to the Norfolk County District Attorney's office, and many other interested parties.  One of the goals of the program was to establish best practices for dealing with individuals afflicted with mental illness and substance abuse.  In addition to the regular monthly meetings, in situations where there are extreme cases, the Coalition will meet on an emergency need basis to formulate individualized plans to assist individuals the police encounter and feel are in need of services.  While the program is still fairly new, it has proved invaluable in a number of individual cases and it has changed the officers approach to dealing with people with mental illness and/or substance abuse issues. The CCIT program was cited by the Department of Justice's Community Oriented Policing Services Website as an example of a police department turning President Obama's Task Force recommendations into action.
School Resource Officer and Walpole's Emotional Support Dog
Walpole has one (1) School Resource Officer whose innovative contributions to community policing have reached beyond the borders of Walpole, and spread to numerous other departments throughout the Commonwealth and beyond. Most notably, the SRO established the use of a trained emotional support dog to help build relationships between the police and Walpole's youth. In a time where there is a negative stigma attached to law enforcement, the SRO has helped break down communication barriers between law enforcement and the community and has helped build a solid foundation of trust and legitimacy between the Walpole Police and the community that it serves.
In 2017, Officer Hart took a number of students with learning disabilities on a field trip to visit an organization called Golden Opportunities for Independence ("GOFI"). GOFI trains service dogs for a variety of needs. The visit was such a huge success, that he began discussing the possibility of the police using service dogs as an ice breaker, and to assist individuals when responding to traumatic incidents. Officer Hart received approval from town officials and eventually GOFI donated a golden retriever named "Rebel" to the police. Rebel is an emotional support dog that is trained to give comfort to individuals that are experiencing anxiety and stress. She has become a staple in our community and is primarily used as an ice-breaker at schools to help build trust between the students and the police. She is also used to respond to traumatic incidents, to help individuals reduce the stress and anxiety associated with those traumatic experiences.
Rebel has been utilized in numerous ways. She has helped encourage students who are reluctant to leave their home, go to school. She has helped students in crisis to calm down and she has defused altercations between students. She has been used to assist a student who was experiencing a traumatic family event. She helped a student reluctant to read out loud in class overcome that fear. She has visited several students, with severe illnesses, both at home and in the hospital. She helped a student returning from a long hospitalization to come back to school by attending classes with her.
Officer Hart's innovative program has led other police departments establishing programs that mirrors Walpole's. Officer Hart has presented to other school resource officers and police administrators in Massachusetts on the benefits of the program. After inquiring with Officer Hart, Sharon, Mansfield, Franklin, Brookline, and the Massachusetts State Police, now have a service dog assigned to their police departments. Also, the Norfolk County District Attorney's Office announced that they would be funding a grant to purchase emotional support dogs for Needham, Dedham, Weymouth and Wrentham. A police department from Illinois also reached out for information, and may be following suit in the near future.
Coffee with Cops
Periodically, the Department will coordinate with local businesses to offer members of the community free coffee in exchange for some good conversation.  This program encourages officers to engage members of the community in dialogue about anything from the weather to particular concerns they may have while enjoying a cup of joe together.  The objective is to allow officers to connect to a portion of the community that they might not have direct contact with through the performance of their regular duties.
Crime Prevention
Two (2) officers are assigned to crime prevention and work with various groups and individuals in the community in conducting security surveys and educating the community on situational awareness of current crime trends.
Student-Police Advisory Council (Stu-PAC)
This program aims to legitimize the concerns of the community's youth by creating an advisory council that gives members of the Walpole High School a voice.  The Stu-PAC consists of four to eight students representing each grade in the high school and several officers who represent the police department. Its purpose includes, engaging youthful citizens with the goal of establishing mutual trust, to act as a mechanism to enhance the department's rapport with local youth, provide dialogue to address the common spread of misinformation, and create mutual trust and respect between the police and youth, and to encourage young citizens to offer input in assisting the department in setting our agenda. The hope is that the partnership with community youth can add a new and positive element to our community policing efforts in Walpole.
Basketball Cop, Hockey Cop & the Travelling Hoop
In partnership with local businesses and sports teams, the department has obtained an assortment of sports equipment and set up a basketball court and hockey "rink" across the street from the police station. We use this equipment to challenge local youths, and community organizations to games against members of our department. We also have a mobile basketball net we bring to area schools and events.
Junior Police Academy
In 2017, the department established the Walpole Junior Police Academy where middle school students spend a week learning about discipline, physical fitness and police functions. Each summer the department conducts two (2) week long academies, in partnership with the Walpole Recreation Department, in an attempt to bridge the gap between Walpole's youth and our police officers.  This program has received resounding support and praise and we are constantly revising the program to make it a great experience that the kids will remember for years to come.
Longview Liaison
Walpole hosts the Home for Little Wanderers, known as Longview Farm, which houses and educates children from various backgrounds who are wards of the state.  In the past, a significant portion of the Department's calls for service were for disturbances involving the residents at Longview.  As a result, the Department established a direct relationship with the leadership and staff at Longview and two (2) officers were assigned to serve as school mentors.  The officers assigned as the Longview school mentors have helped develop an annual basketball game that brings the school's residents, staff and local police together for a friendly game of basketball.  The officers also schedules other events and bring new officers to the school for introductions as part of their field training program.
Walpole Alcohol & Drug Awareness Coalition
In conjunction with the Walpole Health Department, members of the department are regular participants in the Walpole Alcohol & Drug Awareness Coalition.  The Coalition is made up of various government representatives from Walpole and Norfolk County as well as members of the community and several community stakeholders.  The Walpole Coalition was one of the first of its kind in the area and it has led to the development of several local policies designed to combat substance abuse in the youth of the community.  This program was also cited by the Department of Justice's Community Oriented Policing Services Website as an example of a police department turning President Obama's Task Force recommendations into action.
Community Policing Week
Every year, we participate in Community Policing Week which affords us an opportunity to further our mission of community oriented policing and problem solving.  Some of the events we participate in during this week include attending various school sporting events, officers serving free snacks to Walpole High School Students during their snack break in the morning, officers attending a Coffee with a Cop event at a local Walpole restaurant, organizing a "XBOX with a Cop" event at the police station where middle school students are invited to come play non-violent video games with Walpole Police officers, conducting Ride to School events for various students throughout the week, and officers organizing sporting events against local elementary and middle school students.  Sporting events include basketball with a cop, hockey with a cop, and gator ball with a cop, officers visiting all schools during lunch break recess to engage the kids, officers organize a Bicycle Safety demonstration and obstacle course for elementary students at Bird Park on a Saturday during this week, and participating in Senior events at the Council on Aging.  Events include BINGO and Wii Bowling etc.
Santa Cop & Giving Tree
This program was created in 2009, as a way to help families in need during the Christmas holiday.  Members of the community are encouraged to drop off new, non-violent unwrapped toys for children 15 years old and younger.  We also solicit input from the schools and the public to help identify those families in need.  Families that are identified are contacted and offered the opportunity to receive gifts under the program.  We also ask families to identify one particular item that each child wants, and we add those items to our giving tree.  All families receiving gifts are kept anonymous, and officers and dispatchers coordinate with the families to drop off enough toys for each child to ensure that each child has a Christmas to remember. Towards the end of the collection phase of the program, our officers and dispatch unions work together to supplement the stock of presents, through the use of their own money, with gifts to ensure that all children are covered and all giving tree gifts have been purchased.  We then coordinate with parents to drop off the gifts at a time most convenient for them.  This program has been a huge success since its inception.
Back to School Supply Drive
This program seeks out back to school donations beginning in the month of July.  Donations are dropped off at the police station lobby and the items can vary from notebooks, to pens, markers, and backpacks.  Those supplies are then distributed to administrators at the various Walpole Schools, to be distributed to classrooms and those kids that the school staff has identified as being in need.
Diaper Drive
This program was organized by the Home for Little Wanderers in early 2020.  WPD assisted by offering to use the station as a collection point for diaper donations, to benefit children in DCF custody.  The response was overwhelming and a very large cache of diapers were collected from Walpole residents and delivered to Longview Farm for distribution.
Jimmy Fund
Each year, the Walpole Police Department distributes canisters to various business locations in Walpole, to benefit the Jimmy Fund.  This program is operated in conjunction with the Massachusetts Chiefs of Police Association.  Over the past 15 years, we have raised thousands of dollars that have been directly donated to the Jimmy Fund.
Social Media
Members of the department maintain a very active and engaging social media presence. Our Facebook page, created in 2015, was originally created to notify members of the community of ongoing emergencies. However, we quickly learned that it wouldn't be helpful if no one was listening, and set out to create a robust following. Five (5) years later, Walpole Police has more followers to it's Facebook page that any other police department in the area, second only to Boston PD.
Citizen Survey
In 2013, and again in 2020, the department released our Citizen Input Survey with the hope that it would serve as a tool to help guide the department to better serve the community.  The survey was very well received by the community and we received a large number of responses.  From there, a report was generated and distributed throughout the department.  Additionally, officers were able to gain an understanding of some of the important concerns and general perceptions the community had.  With that understanding, officers were able to redirect their focus and conduct operations that were consistent with the needs of the communities.
Prescription Drug Take-Back Program
The Walpole Police received a grant in 2011 from the District Attorney's Office to purchase a "Med-Return" box. This specially designed container offers a place for residents to safely discard their old prescription medications. The disposal of prescriptions medications is often a conundrum for citizens. They do not need them anymore, yet they are fearful of disposing of them in the trash; and they don't want to flush them down the toilet for fear of the environmental impact.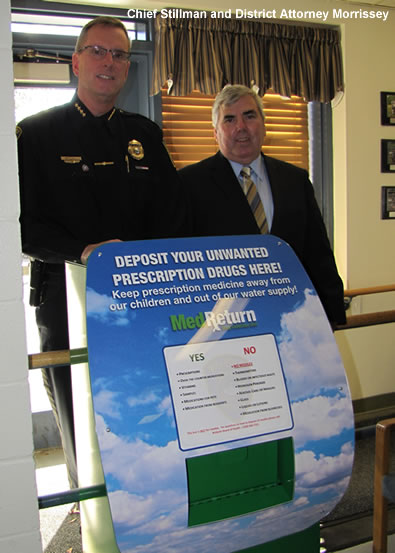 With this $900 grant, we were able to buy, install and begin the "Drug Take-Back" program, and now Walpole residents have a place to dispose of their unwanted medications.
Walpole residents can drop-off their unwanted or expired prescription medications at the police station, using the box pictured here. The drugs are then safely and securely brought to an authorized incinerating facility and properly destroyed.
While we do offer this service free of charge, we ask that residents follow some very simple guidelines put in place by the Department of Environmental Protection and the U.S. Drug Enforcement Agency.
The box is for: prescription medication (including pets), over the counter medication, vitamins, samples etc. Expired or Unwanted medications from residents.
The box is NOT for: hypodermic needles, blood or infectious waste, thermometers, any glass, or any illegal drugs. This box is not for any medications from businesses.
Going Away Program
This program offers citizens the chance to notify the department of a vacation their family is taking where their home will be unoccupied for a while. Officers will use this information, and routinely check the home while they are away, and notify them of any issues.
ATV Unit
The department maintains several All-Terrain Vehicles, which we use in case of an emergency in a remote wooded area in town. However, the unit is also routinely used as a means of community outreach by going to area parks and interacting with children who are excited to see the ATVs.
Anything Else?