Programs & Initiatives
---
Overview
Please browse the selections from the menu on the left. Many of these programs offer the residents of Walpole a variety of services free of charge, for example, the Prescription Drug Take-Back Program listed below.
Maybe you are looking to get a child car seat installed, we have someone who can help. Or maybe you are interested in RAD classes; we have officers always working to put together new classes, so please take the time to review this beneficial information.
This section displays the special assignments that members of the Walpole Police Department do for the community, in addition to their normal duties as patrol officers. The Walpole Police Department is proud to offer, and fund these services, and the officers participating should be commended for their dedication and hard work.
Walpole Police Department: Strategic Drug Plan
Combating the Abuse of Heroin, Prescription Painkillers and Illicit Substances. This document establishes a strategy for the Walpole Police Department in its mission to suppress drug distribution & abuse. Copies have been distributed to all police personnel and it has been posted on the department's website. The Walpole Police Department openly shares its strategy with the public in a spirit of candor, and because we would not be effective without the partnership of our fellow citizens.
The Town of Walpole is not immune from the opioid addiction epidemic. Between 2011 and 2013 the town has averaged 14 overdoses within each calendar year and has unfortunately experienced 12 fatal overdoses, with the vast majority of these deaths being attributed to opiate addiction. In the first eight months of 2014, the town has witnessed 8 overdoses, 7 administrations of Naloxone, with one reported fatality. It is clearly evident that opioid pain relievers are the most widely misused or abused controlled prescription drugs in the Walpole area and have historically provided a gateway to heroin use, which is a cheaper and more easily obtained substance.
According to Walpole's latest Youth Risk Survey, high school students overwhelmingly perceive heroin as having great risk; however, this perception is lessened when viewing their belief of prescription pills. Of the fatal overdoses occurring in Walpole over the past five years, the age has spanned from 20 years old to the mid-forties, indicating that education of our youth is critical in avoiding initiation to opiates. Through sound policy and strategies within the Town of Walpole, the Walpole Police Department believes we can diminish drug abuse and overdose occurrences with collaborative efforts supported by the community.
Therefore, we present this Strategic Drug Plan, which can be viewed in it's entirety by clicking here: >> Walpole Police Department: Strategic Drug Plan <<
3-Part Video Series About Drug and Alcohol Trends
The Office of Norfolk County District Attorney Michael Morrissey has created a 3-part web series for Teenagers and Parents on drug and alcohol trends today. The videos are up on the Norfolk DA's YouTube page, and offer information about the dangers of drugs and alcohol. If you have teenagers, you should watch these videos, they are eye-opening.
See the videos here: Norfolk County DA's YouTube
Prescription Drug Take-Back Program
UPDATE 2013: This program has been wildly successful. For the first year, it was a little slow, we would have to empty the bin about once a month, and we destroyed 70 pounds of pills on our first trip to the secure incinerator. Now, through word of mouth, this program has grown wildly. The bin is emptied weekly and we have made 2 trips to the incinerator this year, destroying 350 pounds of pills. Think about what a pill weighs, and now think about 350 pounds of them. That's a lot of pills.
The Walpole Police received a grant in 2011 from the District Attorney's Office to purchase a "Med-Return" box. This specially designed container offers a place for residents to safely discard their old prescription medications.
The disposal of prescriptions medications is often a conundrum for citizens. They do not need them anymore, yet they are fearful of disposing of them in the trash; and they don't want to flush them down the toilet for fear of the environmental impact.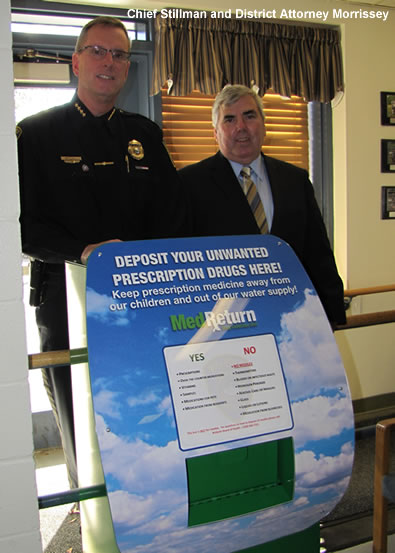 With this $900 grant, we were able to buy, install and begin the "Drug Take-Back" program, and now Walpole residents have a place to dispose of their unwanted medications.
Walpole residents can drop-off their unwanted or expired prescription medications at the police station, using the box pictured here. The drugs are then safely and securely brought to an authorized incinerating facility and properly destroyed. In the first week, the box was filled to the top.
While we do offer this service free of charge, we ask that residents follow some very simple guidelines put in place by the Department of Environmental Protection and the U.S. Drug Enforcement Agency.
The box is for: prescription medication (including pets), over the counter medication, vitamins, samples etc. Expired or Unwanted medications from residents.
The box is NOT for: hypodermic needles, blood or infectious waste, thermometers, any glass, or any illegal drugs. This box is not for any medications from businesses.