Programs & Initiatives
---
Metropolitan Law Enforcement Council (MetroLEC)
Walpole is a member of the Metropolitan Law Enforcement Council (MetroLEC), a group of 40+ law enforcement agencies in the Metro-West area of Massachusetts. The police agencies in MetroLEC are able to share resources in order to fund special task forces for a variety of services that smaller departments could not afford to staff or fund alone.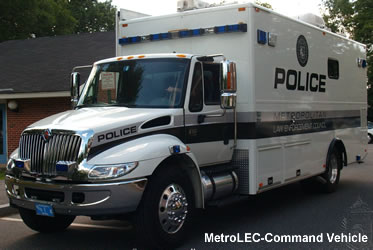 Walpole contributes a number of officers to various task forces in MetroLEC. Officer Habr is a trained and certified crisis negotiator, trained in the de-escalation of dangerous incidents.
Officers Koenig and Manganello are both members of the Mobile Operations Unit (MOP), and are trained in crowd control and vehicle escorts. In 2011, members of MOP assisted in countless escorts, and even helped with crowd control during the Boston Bruins celebration.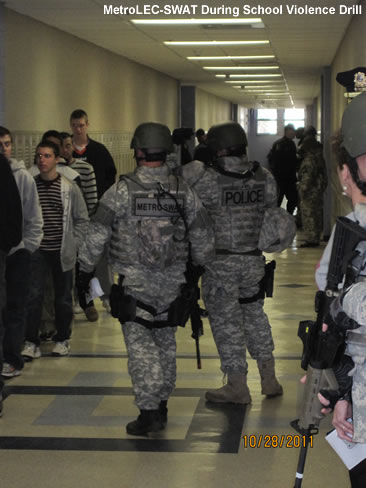 Officers Lagoa and Crown are members of SWAT and are on the MetroLEC search and rescue team (RRT). Members of these teams specialize in responding to critical incidents with specialized training and equipment. Based out of a nearly $700,000, state of the art, mobile command post, MetroLEC-RRT/SWAT provide the town of Walpole with unparalleled services in the area of critical incident response. The resources of MetroLEC-SWAT are available to Walpole on a moment's notice, and the organization is a valuable asset to Walpole.
This fact was demonstrated when MetroLEC members participated in a full-scale emergency response drill at the high school (pictured).